Description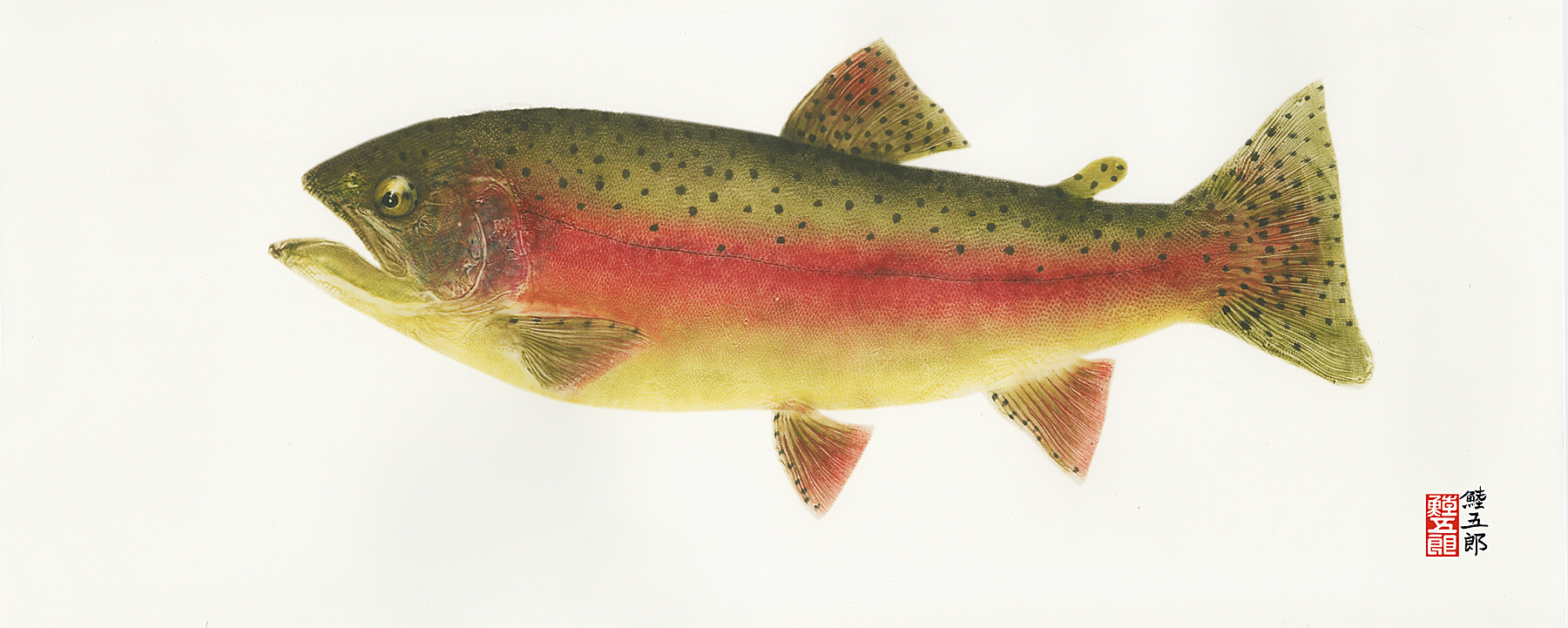 Print size: 29 1/4 " X 12″ Image size: 26 1/2 " X 8 3/4 "
This special series of Gyotaku Giclees are large size, high resolution, archival Giclee' reproductions printed on heavyweight fine art papers. The editions are limited to 25, and each print is signed and numbered. Additionally, they are individually hand signed and sealed with the kanji and chop for my Artist's name, Mutsugoroh.
"Eagle Lake Rainbow Trout (Indirect Gyotaku) " is a Giclee' reproduction of a Kansetsu-ho, or the indirect style, Gyotaku print of a Rainbow Trout, Oncorhynchus mykiss. this fish was caught in Eagle Lake in California.
The original was printed with oil based printing inks on 6 mm Habotai Silk. The colors were added in thin layers of ink. The "Chop" or red Oriental seal signifies my Japanese artist name, Mutsugoroh.
The hi resolution scan of the original was run at 900 PPI., the Giclee printed at 350 DPI.
The Subject
The fish that was used to create this image was a Rainbow Trout, Oncorhynchus mykiss, a freshwater fish and is a popular game fish and held in high regard by sportsman. It is also excellent table fare.
This specimen came from Eagle lake in California a special strain of the species, known for its ability to live in a high alkalinity environment.
What is Gyotaku??
Gyotaku is a Japanese method of printmaking that traditionally utilizes fish, sea creatures or similar subjects as printing "plates" in its process. The literal translation of the word is "fish stone rubbing" and is believed to get its inspiration from Chinese stone rubbings of calligraphy, which gave rise to printing.
Gyotaku, or Japanese fish printing, was originally used to record and commemorate a fisherman's catch.
Eventually, it evolved into an art form, with three different approaches. Kansetsu-ho, or the indirect style, is an artistic evolution of the original fisherman's method of printing. The fish is cleaned, prepped, supported, and then silk is adhered to the fish with rice paste and then inked with applicators known as "Tampos"
Finished works can be mounted on scrolls, wet mounted to canvas, to background washi paper and matted and framed. Frequently, the piece includes a red oriental seal, or "chop" and or some calligraphy indicating the artist's name and information, or important subject matter.
What is a Giclee' reproduction? –
Derived from the French, the word giclee' is generally perceived to mean "sprayed ink". In 1985, a large format color inkjet printer was introduced by Iris Graphics, used for pre-press proofing and for final output digital printing for the fine art reproduction market. The mechanics of this system, using continuous flow ink systems and micro ink head jets to spray the ink produced a continuous tone, dot free output. This represented a departure from the previous standard high quality four color photolithograph reproductions that resulted in microscopically definable rosette dot patterns in the finished piece. This was a visually amazing advance that brought reproductions to a much closer point of representation of the original artwork.
Eventually, Iris printers were superseded by Epson and other large format printers who addressed concerns about handling heavy paper stock and ink longevity. The word "Giclee" was coined to replace earlier references to Iris prints.
True Giclee' reproductions hold to higher standards possible today, including use of a higher range of ink color divisions, high resolution digital source files and output printing resolution, heavyweight archival quality paper substrate, and use of pigmented inks with improved longevity properties.
The Print – Your Giclee reproduction print was made with some of the best quality materials and techniques available to insure long lived enjoyment of your image. This Reproduction was printed on Epson brand Ultrasmooth Fine Art Paper, 325 g/m3 in weight. The paper is not only acid, lignin, and chlorine-free, it is also pH-buffered with calcium carbonate for long-term archival stability. The inks used on your reproduction are Epson brand Ultrachrome K3 inks, with expected color longevity in excess of 50 years. The primary digital scans of the original art work were made at 900 PPI or higher. The prints are created at a DPI output of 350 or better, to ensure good continuous tone results in the final print.